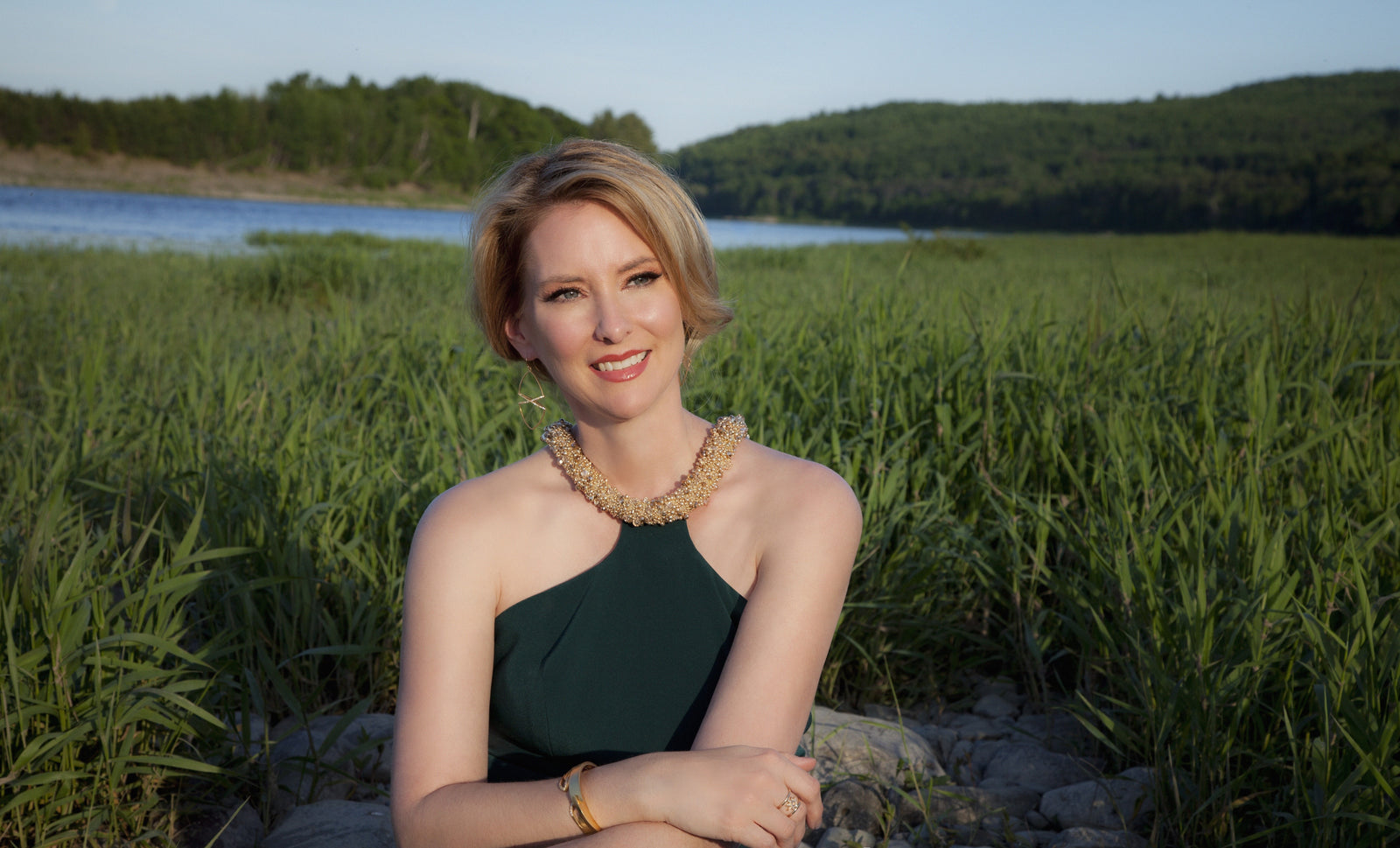 Biography
Eleanor McCain has dazzled audiences for more than a decade with a voice that has been described as "lovely...full and expressive." (Halifax Chronicle-Herald)
Hailing from New Brunswick, Canada, this multiple East Coast Music Award-nominated classical crossover artist has recorded six albums, toured with noted JUNO-nominated jazz singer Matt Dusk, and appeared with orchestras across Canada. She's also had the honour of collaborating with artists such as Roch Voisine, Natalie MacMaster, Jens Lindemann, Jan Lisiecki, Liona Boyd, John McDermott, Chantal Kreviazuk, the Elmer Iseler Singers, and Carlos Nunez, among others.
From tender love songs (Runaway-2014), crossover favourites (Intimate-2001), and lullabies (Bundle of Joy-2007), to Celtic airs (Green Hills of Home-2010) and seasonal gems (Holiday-2011), McCain's music has been consistently met with critical acclaim.
Eleanor McCain's life-long love affair with music began when she was a young girl. Family lore has it that she started singing soon after she could talk. At the age of 9, after seeing a performance of the Broadway smash Annie, an inner spark was ignited and McCain knew there was no turning back. "Since I wasn't exposed to a wide variety of concerts, given the limitations of my small village, seeing girls my age perform in Annie was transformational for me. I sat on the edge of my seat during the entire show," she recalls. "Once I returned to my aunt's house in Greenwich, CT afterwards, I spent hours in the backyard with my sister and cousin singing the songs that I'd just heard, for the first time, live. I was mesmerized and I knew that this was what I wanted to do with my life."
Influenced and inspired by her mother's piano playing and classical training, McCain began formal voice training during her formative years. Every week, through middle and high school, she would travel with her mother to Fredericton, NB (150 km away from her village of Florenceville) for private lessons. She performed solos in school, at community events and in church, competed in music festivals, and sang in local musical productions. Choral music was central to McCain's training—from school choirs to New Brunswick's renowned Hillsborough Girls Choir—and ultimately led to a coveted spot in the National Youth Choir of Canada. Eventually, she went on to earn a Bachelor of Music degree, with a major in voice performance, from Mount Allison University. While her degree provided much needed discipline and taught her how to use her instrument to the top of its ability, McCain yearned to explore genres outside of classical music.
"I realized early on that I was drawn far more to the 'feel' of a song, regardless of its composer or origin, rather than to a specific genre. I hope that my music evokes a memory or emotion for anyone who might hear it."
In 2017, Eleanor McCain released her most ambitious album to date, True North: The Canadian Songbook—32 iconic songs reimagined by 14 Canadian arrangers, recorded with 10 Canadian orchestras, and featuring guest appearances by 28 celebrated Canadian artists. An award-winning bilingual coffee table book, which includes a stunning series of portraits by noted photographer V. Tony Hauser and showcases the dramatic and majestic Canadian landscape through a curated set of images by 22 photographers, accompanied the two CD album.
McCain's highly anticipated new disc, I Can See Hope From Here, an abridged version of True North: The Canadian Songbook, is a collection of 14 favourite tracks from the original album that offers a taste of Canada's many musical flavours. Though the origin of the title track came from events in her personal life, the profound impact that COVID-19 has had on the world suddenly caused its words to take on a much deeper and more universal meaning. 
Based in Toronto, Eleanor McCain is also an active philanthropist. The launch of True North: The Canadian Songbook supported five $20,000 commemorative BandAid Grants honoring the 20th Anniversary of MusiCounts, Canada's music education charity. In an effort to offer support and to shine a light on the devastation caused by the global COVID-19 pandemic, proceeds from I Can See Hope From Here, up to a total of $25,000, will benefit the Unison Fund—Canada's music industry charity, providing counselling and emergency services to the Canadian music community.

You can download bios, press photos and press releases on the Media Kit page.