A celebration of Canadian music, I Can See Hope From Here offers solace and warmth as the world begins to emerge from a pandemic that not only profoundly affected humanity as a whole but dealt a seismic blow to the performing arts community.
ORDER
STREAM
I Can See Hope From Here, is a collection of 14 favourite tracks from True North: The Canadian Songbook, Eleanor McCain's most ambitious project to date - produced by Don Breithaupt and featuring the creations of 14 arrangers, 28 guest artists, and 10 symphony orchestras from across the country. I Can See Hope From Here not only offers a cross-section of the many musical flavours of Canada's vast songbook but also serves as an apt reflection of the country's ethos of strength and diversity.
"The honest emotion and powerful spirit of Canadian music has always inspired me," says McCain, "especially now as we begin to emerge from a very dark and uncertain time. Though I'm not a songwriter, as a long-time interpreter I have the deepest admiration and respect for those who can capture and convey deep feeling through music and words."
Though the origin of the title track, an original song by album producer Don Breithaupt and his brother Jeff, was personal, the profound impact that COVID-19 has had on the world suddenly caused its words to take on a more universal meaning during this time of restoration and healing.
Album proceeds benefit The Unison Fund – Canada's music industry charity – up to a total of $25,000.
Orchestras
Edmonton Symphony Orchestra
Orchestre symphonique de Québec
National Arts Centre (NAC) Orchestra
Newfoundland Symphony Orchestra
Symphony Nova Scotia
Vancouver Symphony Orchestra
Winnipeg Symphony Orchestra
Guest Artists
Natashia Allakariallak
François D'Amours
Denise Djokic
George Gao
Ron Korb
Jens Lindemann
Bill McBirnie
Pro Coro Canada
Donald Quan
Don Ross
Sharon Riley And The Faith Chorale
Roch Voisine
Vineet Vyas
Lesley Young
Arrangers
Shelley Berger
Don Breithaupt
Peter Cardinali
Darren Fung
Benoit Groulx
Lou Pomanti
Donald Quan
Team
Eleanor McCain - Executive Producer
Don Breithaupt - Producer
Justin Abedin - Guitar
Susan Abramovitch - Lead Legal Counsel - Gowling WLG (Canada) LLP
Arthur / Hunter – CD Layout Design
John Bailey - Recording Engineer
Glen Beard – Piano Technicia
Laurie Bégin - Production Coordinator
René Bissonette - Associate, Gowlings WLG
Sandy Bloos - Hairstylist/li>
Shelley Bunda - Executive Personal Assistant
Paul Campbell - Event Coordinator
James Clemens-Seely - Assistant Engineer (Orchestral)
Peter Cocking - Art Director/Book Design
Gary Corrin – Music Librarian
Mark Costain, VP Marketing, Entertainment One Music
Neil Edwards - Project Consultant/Concert Engagements
8VA – Media and Communications and Social Media
Sándor Fizli - Session Photographer
Sean Gill - Associate, Gowlings WLG
Andrew Harper – Music Librarian
V. Tony Hauser - Book Curator
Alexandre Jacques - Production Manager
Vanessa Jarman - Make-up and hair
Christopher Johns - Assistant Engineer (Orchestral)
Kim Juneja – Music Publicity, Take Aim Media
Mark Kelso - Drums
Taylor Kernohan - Engineer
Pat Kilbride - Bass
Paul King - Hairstylist
Lorraine Lawson - Vocal Coach and Vocal Production
Greg Locke - Photographer
Martin MacDonald - Conductor
Laurie Mathieu-Bégin - Production Coordinator
Darren McGill - Assistant Studio Engineer
Wendy Natale - Wardrobe
Chris Moncada, General Manager, Entertainment One Music
Sébastien Paquin – Production Accountant
Quisha Wint – Background Vocals
Milan Sarkadi – Assistant Studio Engineer
Darlene Sawyer - Project Manager
Olivier Sirois - Production Executive
Carl Talbot - Recording Engineer (Orchestral)
Chris Taylor, President, Entertainment One Music
Jeremy Tusz - Recording Engineer (Orchestral)
Heidi Umstadt – Legal Administrative Assistant
Melanie Vaugeois - Content Coordinator
Justin West - Lead Business Consultant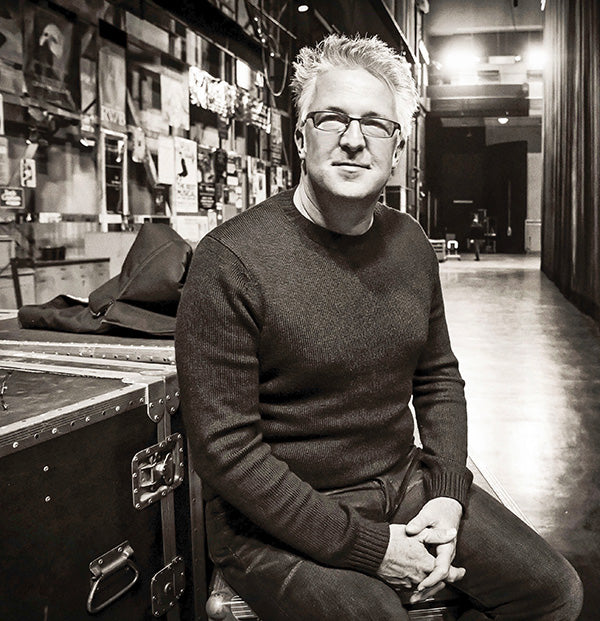 Don Breithaupt
Songwriter and producer, Don Breithaupt and his brother, Jeff describe writing the song, I Can See Hope From Here
DON: We grew up cottaging on southern Georgian Bay, and one way or another we still get up there every summer. In 2014 I rented a place, and Ross, the third of the Breithaupt brothers, was sitting on the dock admiring the view. He could see Giants Tomb Island, a little bit of Christian Island and then, referring to a little uninhabited island in the distance, he said, "I can see Hope from here." I said, "That's a great song title! I'm writing it down." And it stayed in our potential song file until Eleanor commissioned us to write something original for the album. It was perfect for
a Canada-themed project, with a title that reflects Ontario geography. Jeff and I wrote it the way we always do, as a traditional music-and-lyrics team, like Rodgers and Hart or the Gershwins.
JEFF: Unlike most of our collaborations, which start with either fully realized melody or lyrics, this song grew piece by piece: a bit of music, then lyric, then music, then more lyric. It's a song about living through a dark night of the soul and coming into the dawn—the light. The singer yearns to sleep because she wants to go back into a dream to see the person she has lost, but by the last verse she's able to say, "It's been a long night, it's been a long year, but I can see hope from here."
DON: There's an image in the first line of the bridge, of dreams and stars bringing light from the past. As an astronomy nerd, I love that one.