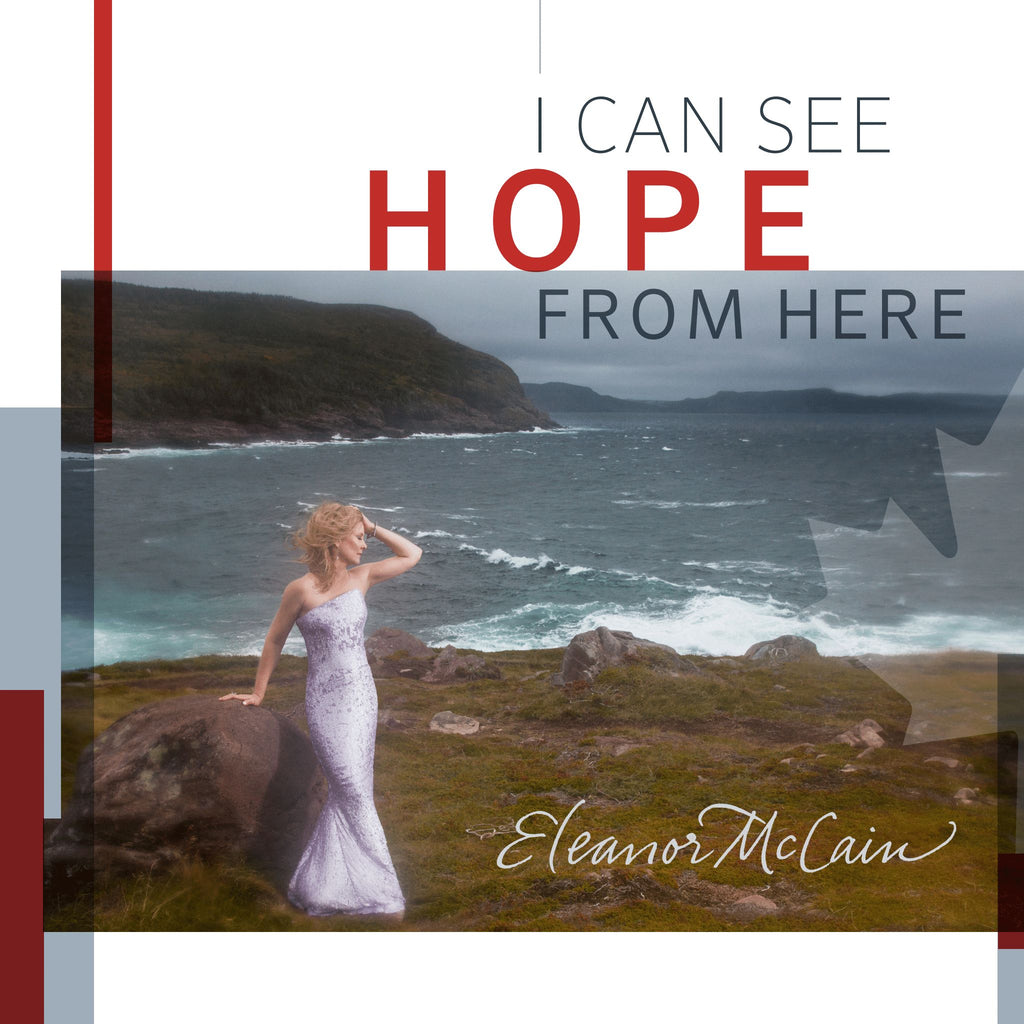 I Can See Hope From Here
$12.99 CAD
A celebration of Canadian music, I Can See Hope From Here offers solace and warmth as the world begins to emerge from a pandemic that not only profoundly affected humanity as a whole but dealt a seismic blow to the performing arts community. With great Canadian pride, Eleanor McCain's silky vocals fuse seamlessly with orchestras from across Canada to create a powerful message of inspiration.  
DIGITAL ALBUM - Order
Apple Music
Info
The album provides a fresh take on 14 favourite tracks from Eleanor McCain's most ambitious project to date – True North: The Canadian Songbook - produced by Don Breithaupt and featuring the creations of 14 arrangers, 28 guest artists, and 10 symphony orchestras from across the country, True North: The Canadian Songbook was developed to celebrate Canada's 150th birthday.
I Can See Hope From Here not only offers a cross-section of the many musical flavours of Canada's vast songbook, but also serves as an apt reflection of the country's spirit and strength.
I Can See Hope From Here was released on September 24, 2021, and is available on CD and digitally here on the website and on Apple Music.
Track List
Hallelujah - Written by Leonard Cohen (feat. National Arts Centre Orchestra)
I'll Always Be There - Written by David Foster / Roch Voisine (feat. Roch Voisine, Sharon Riley And The Faith Chorale, National Arts Centre Orchestra)
A Case Of You - Written by Joni Mitchell (feat. National Arts Centre Orchestra)
Run To You - Written by Bryan Adams / Jim Vallance (feat. François D'Amours, Vineet Vyas, Winnipeg Symphony Orchestra)
Angel – Written by Sarah McLachlan feat. Denise Djokic, Pro Coro Canada, Edmonton Symphony Orchestra)
Constant Craving - Written by k.d. lang / Ben Mink (feat. Jens Lindemann, Vancouver Symphony Orchestra)
Undun  - Written by Randy Bachman (feat. Bill McBirnie, Vancouver Symphony Orchestra
Get Me Through December - Written by Gordie Sampson / Fred Lavery (feat. National Arts Centre Orchestra)
Aujourd'hui je dis bonjour à la vie - - Written by Serge Fiori (feat. Don Ross, Orchestre symphonique de Québec)
I Can See Hope From Here -  - Written by Don Breithaupt / Jeff Breithaupt (feat. Lesley Young, Newfoundland Symphony Orchestra)
Heart Like A Wheel - - Written by Anna McGarrigle (feat. George Gao, Ron Korb, Donald Quan, Newfoundland Symphony Orchestra)
Still Believe In Love - Written by Haydain Neale (feat. Symphony Nova Scotia)
Up Where We Belong - Written by Wilbur H Jennings / Jack Nitzsche / Buffy Sainte-Marie (feat. Vancouver Symphony Orchestra)
O Siem -  - Written by Susan Aglukark / Chad Irschick (feat. Natashia Allakariallak, Sharon Riley And The Faith Chorale, Orchestre symphonique de Québec)
Credits
Executive Producer: Eleanor McCain
Producer: Don Breithaupt
Conductor: Martin MacDonald
Vocal Producer: Lorraine Lawson
Recorded and Mixed by: John "Beetle" Bailey at Phase One Studios, Scarborough, Ontario, and The Drive Shed Studios, New Hamburg, Ontario
Additional Engineering: Taylor Kernohan
Assistant Studio Engineers: Milan Sarkadi, Darren McGill
Orchestras Recorded by: Diapason Mobile
Lead Orchestral Recording Engineer: Jeremy Tusz
Orchestral Recording Engineer: Carl Talbot
Assistant Orchestral Recording Engineers: James Clemens-Seely, Christopher Johns
Mastered by: Greg Calbi and Steve Fallone at Sterling Sound, New York, NY
Vocals: Eleanor McCain
Piano: Don Breithaupt, Lou Pomanti (tracks 2 and 13)
Guitar: Justin Abedin
Bass: Pat Kilbride
Drums/Percussion: Mark Kelso
Background Vocals: Lorraine Lawson, Quisha Wint
Cover Photographer: V. Tony Hauser