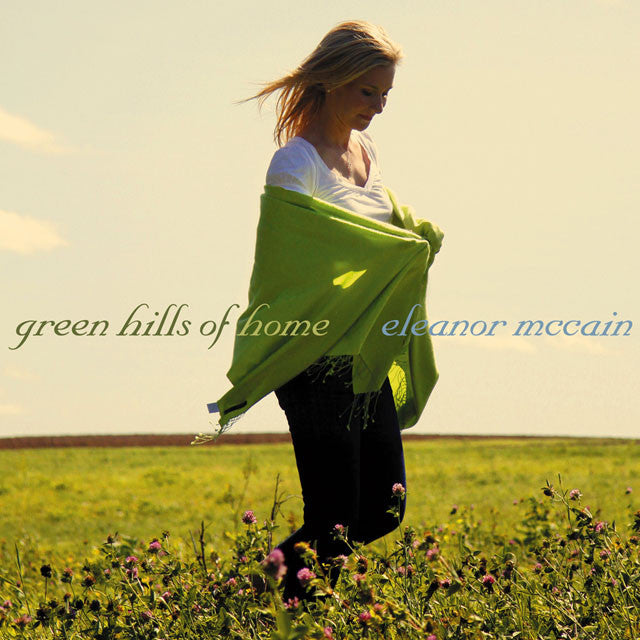 Green Hills of Home
$12.99 CAD
INTIMATE
Nominated for a 2011 ECMA Award for Roots / Traditional Solo Recording of the Year.
Eleanor's third CD is a collection of traditional Celtic ballads, a touching and emotional tribute to her Maritime roots.
DIGITAL ALBUM - Order
Apple Music
Info
"I am proud of my Maritime roots. Being able to express my deep and emotional connection to the Maritimes through the Celtic music on this CD was like coming home for me. I hope these songs touch you as much as they do me."
High on her list is the acclaimed Tim Thorney/Erica Ehm song, Green Hills of Home. This unforgettable ballad is a deeply moving song as it reflects on her family leaving New Brunswick and their yearning to return to the green hills of the Saint John River Valley.
Carrickfergus is one of Eleanor's favourite songs. Set to a beautiful lyrical melody, this song is about a person at the end of the end of their lives who has a yearning to be back in the place they love with the people they love.
In a similar vein, The Last Rose of Summer is a classic Irish folk song telling a sad, poignant tale of the end of life, expressed through the life of a rose.
While this song has been recorded over 130 times around the world, Eleanor felt compelled to record Song For the Mira, a classic Cape Breton anthem by Allister MacGillivray. For Eleanor, the line, "Out on the Mira the people are kind.....And if you come broken they'll see that you mend," epitomizes "what it means to be a Maritimer - that we are all there for each other." It was a song that she just had to record for this collection because of how beautifully it embodies the essence of what it means to be from the East Coast.
In this same spirit, Eleanor has included two other MacGillivray songs to round out her dedication to the Maritimes with Song For Peace and Away From the Roll of the Sea. Eleanor connects with MacGillivray's beautiful melodic sensibilities and how he creates a musical pictorial through which his lyrics are expressed.
Another must for Eleanor to include in this collection was the world famous Irish ballad, Danny Boy. Being of Irish heritage, it was impossible not to include this classic Celtic ballad. Also, given Eleanor's McCain ancestors came from Derry she had to include the song that was based on the tune The Londonderry Air.
The Water Is Wide is a classic English folk song about the inherent changes of love. Brigham's beautiful arrangement, especially the harmonies, lifts this song to new heights.
Ready for the Storm is written by Dougie MacLean, one of Scotland's most respected musicians. Definitely one of the CDs more up-tempo and memorable songs.
Steal Away was written by Irish music legend, Phil Coulter, and is about a dream he had as a child stealing away in the middle of the night. Another classic with a moving melody and lyric mixed with gorgeous harmonies.
Buachill on Eirne is a traditional Irish song that Eleanor has loved for many years. For this song, Eleanor learned traditional Gaelic from a lovely woman named Maureen Padgett who grew up in Ireland.
Isle of Innisfree was written by Dick Farrelly and was featured in the 1952 movie The Quiet Man. The poignant words express the longing of an Irish emigrant for his native land.
The classic traditional Scottish folk song, Skyeboat Song, tells of the escape of Bonnie Prince Charles after his defeat at Culloden in 1746. Eleanor chose this song in tribute to her Scottish roots on her mother's side.
Eleanor sang The Ash Grove, a traditional Welsh folk song, in many festivals as a child with her mother accompanying her on the piano. She also performed on many occasions with her mother Down By The Salley Gardens which is a beautiful traditional Irish folk song based on a poem by WB Yeats. Eleanor loves the melody and words of these songs, but the memories of singing them with her mother are as important as her love of the songs themselves.
Ae Fond Kiss is a Scottish folk song with music by Healey Willan and words by Robert Burns. It is a song about "parting". The words are so poignant and elegant in the way they express this feeling of 'parting' that this seemed the perfect way to end this wonderful collection.
Track List
Green Hills Of Home
Carrickfergus
The Last Rose Of Summer
Song For The Mira
Danny Boy
The Water Is Wide
Ready For The Storm
Steal Away
Song For Peace
Buachaill On Eirne
The Isle Of Innisfree
Skyeboat Song
Away From The Roll Of The Sea
The Ash Grove
Down By The Salley Gardens
Ae Fond Kiss
Credits
Green Hills of Home was produced and arranged by respected musician and producer, Brigham Phillips.