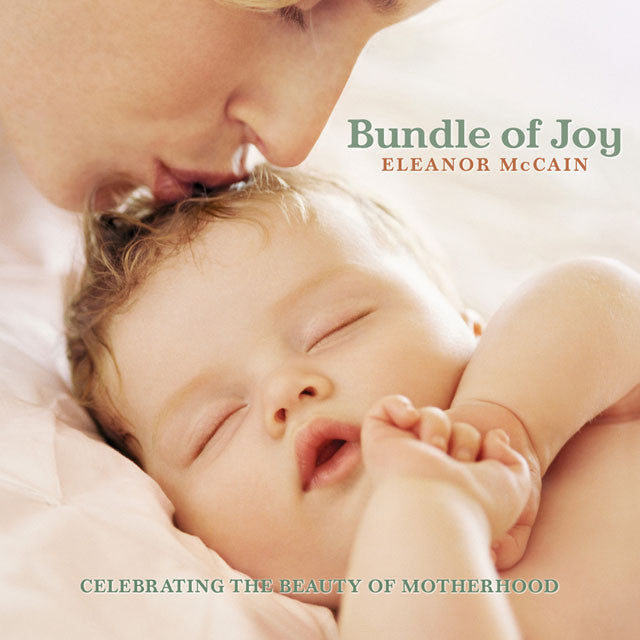 Bundle of Joy
$12.99 CAD
BUY DIGITAL ALBUM
Apple Music
Nominated for a 2009 ECMA Award for Children's Recording of the Year.
A CD of lullabies that celebrates the intimate bond between mother and child – yes, it's for children, but also very much for parents.
Info
"This collection of wonderful lullabies celebrates the unique and intimate bond between mother and child. Inspired by my child, and my childhood, I wanted to bring to life music that is as much for the parents as it is for their children."
Written by Ned Washington and Leigh Harline and popularized in the 1940 Disney Classic Pinocchio, When You Wish Upon A Star won the Academy Award® for Best Original Song that year. It isn't surprising that the American Film Institute ranked it seventh in their 100 Greatest Songs in Film, as it has endured for nearly 70 years.
As a child, Eleanor would often sing When You Wish Upon a Star, as well as the Judy Garland classic Somewhere Over the Rainbow, Brahms' Lullaby and Edelweiss, the final song written together by Richard Rodgers and Roger Hammerstein for the musical The Sound of Music. Her mother would accompany the budding soprano on the piano, and the wistful and gentle songs became a staple of her childhood. As a new mother, Eleanor turned to her childhood repertoire when singing to her beloved daughter Laura.
Neverland is an original song by John Vezner. Drawn to the simplicity of its melody and lyrics, Neverland brings out the child within us all.
It is no surprise that the 1941 Academy Award® winner for Best Original Song, Baby Mine from the Walt Disney motion picture Dumbo and Stay Awake the lullaby that Mary Poppins sang to her charges on a stormy night would be included. Both reveal the reassurance and comfort that children feel when being sung to, resonate with the young and the young at heart.
Suggested by producer Terry Sawchuk, Golden Slumbers is The Beatles' stunning and contemporary lullaby. It is a perfect compliment to the classic songs that are the foundation for Bundle of Joy.
According to Eleanor, Turn Around is a song that always moves her when she thinks of Laura. Although she was familiar with the song, she didn't understand the lyrics in a meaningful way until Laura was born. Each time she heard it, or sang it, it moved her to tears. When the decision to record Bundle of Joy was made, it was the one song that she knew must be on the album.
Cape Breton Lullaby is a nod to Eleanor's Maritime roots. A native of New Brunswick, she first performed this song at a reception welcoming her god-daughter.
In My Daughter's Eyes talks about the relationship between a mother and daughter, which is ultimately what, this album is about: the remarkable connection between a mother and her child.
First recorded by the brilliant Louis Armstrong and released in 1967, What a Wonderful World speaks to the optimism we see in our children, the promise of good things and enjoyment of those around us. It was a perfect fit.
Shenandoah is a classic American folk song. The mellifluous music and lyrics speak to the essence of this intimate album. Arranged by Brigham Phillips, this purposely simple version is a favourite of Eleanor's and hopefully yours as well.
Credits
Terrance Sawchuk produced this CD, with song arrangements by Cliff Masterson and featuring Brigham Phillips and Nashville Strings.
Tracklist
Neverland
In My Daughter's Eyes
Golden Slumbers
Shenandoah
Cape Breton Lullaby
Edelweiss
Somewhere Over The Rainbow
When You Wish Upon A Star
Baby Mine
Turn Around
Brahms' Lullaby
What A Wonderful World
Stay Awake